Hot Tub Time Machine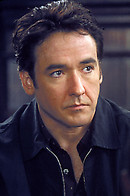 Starting your week off right with another piece of eye candy, this time in the form of always witty, intelligent, fun-to-watch John Cusack, because I went to his (one of the actors and executive producers)
Hot Tub Time Machine
yesterday.
Three friends and the nephew of one of the friends find themselves transported from 2010 back to a particular weekend in 1986 by the hot tub at a ski resort. Not too surprisingly, the three friends aren't exactly where they want to be in their current lives, and the nephew isn't doing much with his young life.
Is the trip back in time a chance to get everything right, or a reminder of what life was really like back in the "good old days" of their youth?
I enjoyed the movie quite a bit. Good casting, fun in a campy sort of way, with just the right touch of nostalgia, and the music selections are perfect.
I'm a little sad that the 1980s is reduced to being called the decade of Reagan and AIDS. Depressing thought!!!!!